What is EDS and HSD Awareness Month?
Every May, people all over the world show their support for people living with and affected by the Ehlers-Danlos syndromes (EDS), and hypermobility spectrum disorders (HSD). Our shared mission is important throughout the year, but May is a time we all come together, share experiences, and highlight what is needed to progress change. 
What we will gain from your fundraising efforts is invaluable, and for that we cannot thank you enough! All money raised can help us on our mission to help people with EDS/HSD within New Zealand. This money will help us in providing ongoing support to our community through resources on our website and ongoing support calls, as well as attend virtual events with the worldwide EDS community to stay up to date on the latest developments.
We are currently working towards an EDSNZ Booklet in conjunction with our amazing Clinical Advisory Panel. This booklet is aimed at helping the newly diagnosed navigate through the early stages of diagnosis including what to expect and how to access healthcare and other services they may need. Your donations this May will contribute greatly to this booklet being released as early as possible and will make a huge difference to our newly diagnosed EDSers.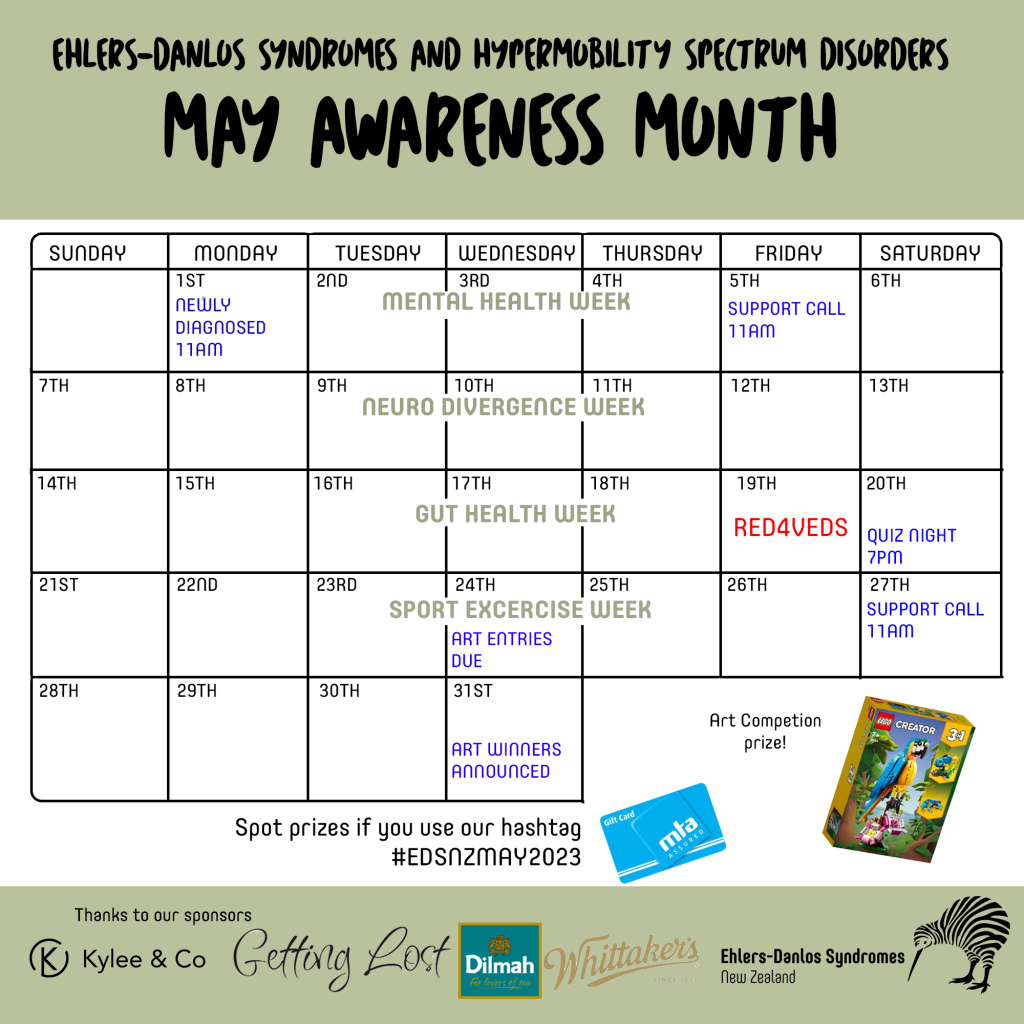 Use the Hashtag #edsnzmay2023 to share your fundraisers on Facebook, Instagram,Twitter and TikTok to widen your reach of potential sponsors.
Alternatively, you can use the hashtag #edsnzmay2023 to share your EDS journey on social media. Lets get EDS Awareness trending on social media platforms this May!
Awareness Merchandise & Materials
Upcoming Support Calls and Days
Earn Prizes for Participating In Events
Thanks to our sponsors who have helped us by providing items for spot prizes. Check out some of the merchandise you could win just by signing up and participating in our events in May. We're adding more items as spot prizes soon so keep an eye out!
Previous Fundraising Events